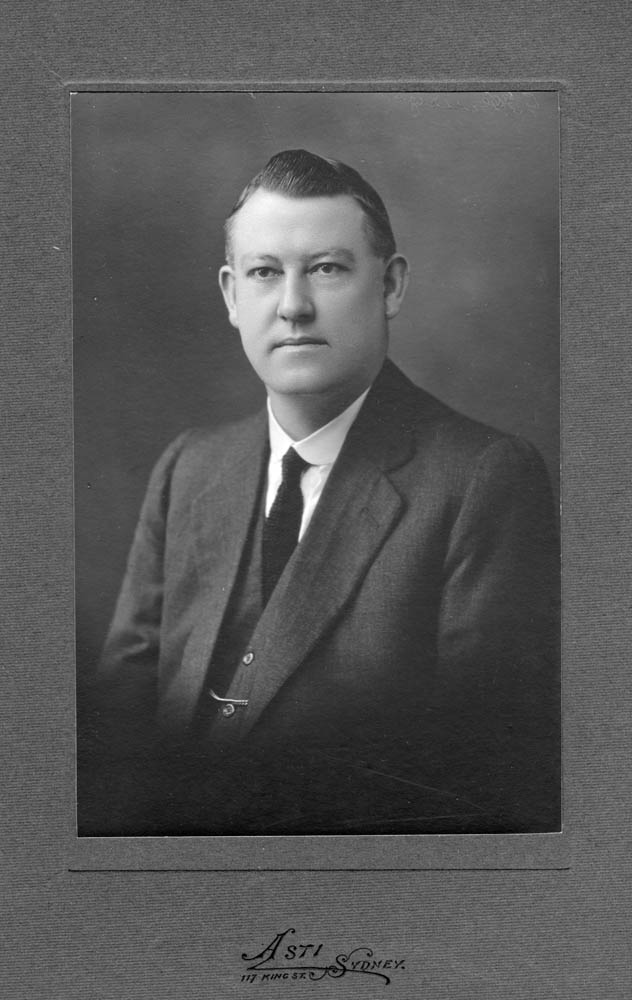 Notes: OSWALD HECTOR  REID  – 1899-1947
My Uncle Oswald H. Reid died on 13th September 1947 at his home in High St., Willoughby.
The following Tribute appeared in a Sydney paper:
OS REID – SPORTSMAN AND GENTLEMAN
A Tribute by Jack Mc Grath, President, N.S.R.L.F.C.
The death of Os Reid on Saturday last marked the passing of one of the most popular, and certainly one of the most capable administrators associated with the North Sydney District Club, in it's long history.
He was highly respected by all sections of the community and will be badly missed by his club. Os began his football career with Willoughby Juniors, and was a member of the side which won thePresident's Cup in 1918. He joined up with the District Club in 1921 at a time when the brilliant first grade team was making football history. In 1924 he represented NSW against Queensland and in 1927 became District  Hon. Treasurer, a post which he filled with great credit and distinction until his death.
For many years he was a district selector and his cool judgement and wise discernment were valuable assets in bringing promising juniors to the grade ranks. He was deputy delegate to the NSW Rugby League from 1929 to 1940 and from 1944 to 1947. Os was also a vice-president of the  NSW Rugby League in 1941, 1942 and 1943, when the head body ruled that club officials were not eligible to sit as vice-presidents.
Os Reid won the unstinted admiration of all club mates for the courageous manner in which he fought a long and painful illness to finally succumb at the comparatively early age of 48. The large crowd which paid its final respects at the Northern Suburbs Crematorium on Monday last was a fitting tribute to Os Reid, a great sportsman and a fine gentleman.
Many years later when Os Reid's wife, Grace Reid, died in 1998,  his 1924 Representative jumper and his Life Membership Badge of the North Sydney Rugby League Club were found and handed to the then Secretary of the Club, Ray Beattie, by Os and Grace's only son, Ken Reid. The family retain a N.S.R.L.F. Cap won by Os Reid.
 June R. Maitland (niece of Os Reid).